His Holiness Mahant Swami Maharaj's Visit to Los Angeles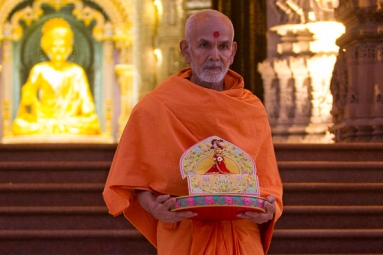 About this Event
His Holiness Mahant Swami Maharaj's Visit to Los Angeles
The spiritual legacy of His Holiness Pramukh Swami Maharaj continues in North America with the pending arrival of His Holiness Mahant Swami Maharaj in Atlanta, GA on June 22, 2017. Over the next three months, he will visit mandirs and inspire thousands of devotees in Atlanta, Chicago, Houston, Dallas, Los Angeles, San Jose, New Jersey (Edison and Robbinsville), and Toronto, Canada. His visit will be filled with traditional celebrations, spiritual discourses, various seminars, and special events open to the community.

Since the earthly departure of Pramukh Swami Maharaj, Mahant Swami Maharaj now continues the lifework and legacy of Pramukh Swami Maharaj as the sixth and current spiritual successor of Bhagwan Swaminarayan. He was born in 1933 in Madhya Pradesh, India. In 1961, at the age of 28, he was ordained as a swami and given the name of Sadhu Keshavjivandas by His Holiness Yogiji Maharaj, then guru and spiritual leader of BAPS. Yogiji Maharaj recognized his leadership abilities and bestowed upon him numerous responsibilities including appointing him as the mahant, or chief priest, of the BAPS mandir in Mumbai, India. Thus, the name 'Mahant Swami Maharaj.'
About Mahant Swami Maharaj
His Holiness Mahant Swami Maharaj is the sixth and current spiritual successor of Bhagwan Swaminarayan. He was ordained a swami by Yogiji Maharaj in 1961 and named Sadhu Keshavjivandas. As he was appointed the head (Mahant) of the Mandir in Mumbai, he became known as Mahant Swami. His devout, humble and service-focused life earned him the innermost blessings of Yogiji Maharaj and Pramukh Swami Maharaj. Mahant Swami Maharaj travels throughout the world inspiring people through his insightful spiritual discourses and disciplined conduct. His virtuous lifestyle and profound devotion to Bhagwan Swaminarayan and gurus are ideals toward which devotees strive. Mahant Swami Maharaj became the guru and President of BAPS upon Pramukh Swami Maharaj's passing in 2016.
About Pramukh Swami Maharaj
Pramukh Swami Maharaj was the fifth spiritual successor of Bhagwan Swaminarayan. Under his leadership, BAPS grew into an international spiritual and humanitarian organization with over 3,300 centers worldwide. He dedicated his life to the well-being of others, traveling throughout the world to foster love, peace, harmony, righteousness, faith in God, and service to humanity. With genuine care and compassion, he reached out to all members of society irrespective of class, color, or age. Recognized and respected as one of India's greatest spiritual teachers, he lived by and promoted the principle: "In the joy of others, lies our own."
EVENT TITLE & ADDRESS
STARTS FROM