Neeti Palta live Stand-Up Comedy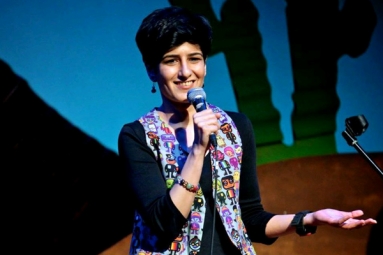 About this Event
Neeti Palta live Stand-Up Comedy
Neeti Palta live Stand-Up Comedy held at Los Globos Los Angeles.
India's favorite female comedian, Neeti Palta performs in LA for the first time ever on Dec 9th at the Los Globos club on Sunset Blvd.
Neeti has been featured on Comedy Central Asia and NDTV, and was voted by CNN as the number 1 Indian comedian to watch in 2014. She was the first Indian comedian to perform at the prestigious Melbourne Comedy Festival, performed along with Russel Brand, and is a past winner of best stand-up at the Oz Fest. As one of the few Indian female comedians she has broken new ground and taken India by storm by bringing to the Indian English stand-up comedy scene there what it sorely lacks – a female perspective!
And this December, she is bringing her wares to Southern California for a night of top hot comedy. Neeti will be joined by other funny South-Asian comics special guests and LA you will want to get in on this!
Please join the Facebook event: Link Here
Tickets are available at: Click Here
Share the event with friends/family in the area and Get you tickets early before the best ones get taken!
Post any questions on the Facebook event, and we'll be happy to answer them!
EVENT TITLE & ADDRESS
STARTS FROM
The West End,
1301 5th Street,
Santa Monica, CA 90401

Via Verde Country Club,
1400 Avenida Entrada San Dimas,
Harbor City, CA 90710

Royal Delhi Palace Banquet Hall,
22323 Sherman Way,
Los Angeles, CA 91303

Sheraton Cerritos Hotel,
12725 Center Ct Dr S,
Cerrito, CA 90703