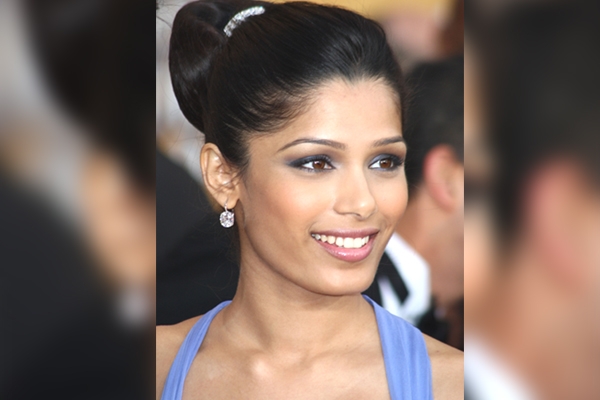 Freida Pinto would never play as Bond girl unless she was a character with her own voice. Freida Pinto has been dubbed being linked to a Bond girl role in a Hollywood "initiation ceremony".
The 32 years old actress first made a name for herself in the Hollywood in the year 2008 with movie Slumdog Millionaire. After a while of the Oscar-winning movie was released, it was claimed that Freida had been offered to play a role of Bond girl in an upcoming 007 movie, but had turned the gossip down.
During an appearance on the U.K. breakfast program Lorraine on Monday (10th Apr, 2017), Freida has set record straight about the showbiz gossip.
"Actually, that's a rumour. It's not true at all," she said when the host Lorraine Kelly addressed the report. "I'm putting that to rest - it's a total rumour! I think what happens is, I'd just come onto the scene with Slumdog Millionaire and what I hear is that any actress, or any actor, who just gets their first bit of fame, the Bond rumour is almost like an initiation ceremony... 'This rumour must happen!'"
Hybrid Police Cars To Save Gas
Since Slumdog shot her to the worldwide fame, Freida has starred in the movies such as Rise of the Planet of the Apes and also TV shows including the upcoming drama Guerrilla, alongside of Babou Ceesay and Idris Elba.
The versatile roles she has taken on over the recent years have defined Freida is well aware of how she wants her career trajectory to progress, and whether or not Freida might take on the part of a 007 love interest in the future.
"It happened and it was really flattering but to be really honest, I was 24 years old when Slumdog came out - I would have felt totally out of my depth playing a Bond girl," she continued. "Now I'm a lot more aware of what I want to do in film and what I don't want to do, and I would not want to play a Bond girl if she didn't have her own voice."
When Lorraine suggested that she could perhaps take on the role of the actual spy, Freida answered that: "Or yes, (I could) just play Bond!"
Mrudula Duddempudi.