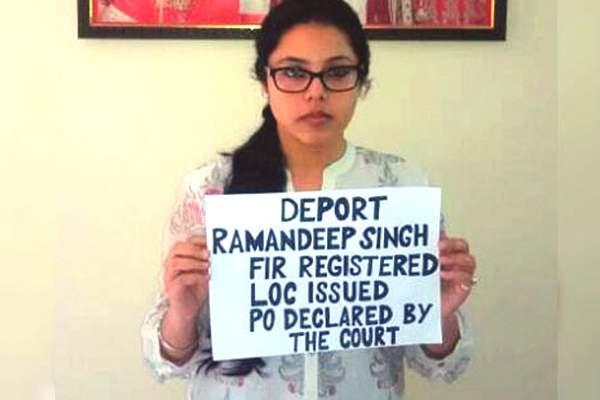 Chand Deep Kaur, who has been deserted by her Non Resident Indian(NRI) husband has sought help from the External Affairs Minister Sushma Swaraj. Kaur and has requested to get her husband Ramandeep Singh deported from New Zealand. Though her husband has been declared a proclaimed offender by the Punjab police. Kaur has requested the minister for help, saying that she wants to send a message that no other NRI cheats his wife.
"I have sought  Swaraj's help in getting my husband deported. He is in New Zealand," Kaur said.
She wants her husband's passport to be cancelled, "I want to set an example so that no other NRI husband can ever dare to cheat a woman. I also want stringent laws in place to check such men," she said.
Kaur received a call from the ministry to send relevant documents in connection with the case.
She said that she wants her husband back to India, so that she can divorce him and start a fresh life.
They got married in July 2015, when Ramandeep Singh was working in Auckland as an accountant. Soon after the marriage Ramandeep returned  to New Zealand and Kaur stayed with her in-laws in Jalandar, Punjab.
Ramandeep returned to India in December 2015 and returned back to New Zealand in January 2016, she said.
Kaur just spent 40-45 days with her husband, she alleged that her in-laws' behavior changed after the marriage.

"They told me that they had disowned Ramandeep so I should move back with my parents," Kaur claimed.
When she tried calling her husband, he did not respond and members of her in-laws family refused to respond and blocked her number.
On August 2016, Kaur filed a complaint at the police station against her husband. Ramandeep faces charges of criminal breach of trust, among other sections of the Indian Penal Code.
A look-out circular was also issued against Ramandeep, she said.
Indian-origin disqualified as company director in the UK
AMandeep