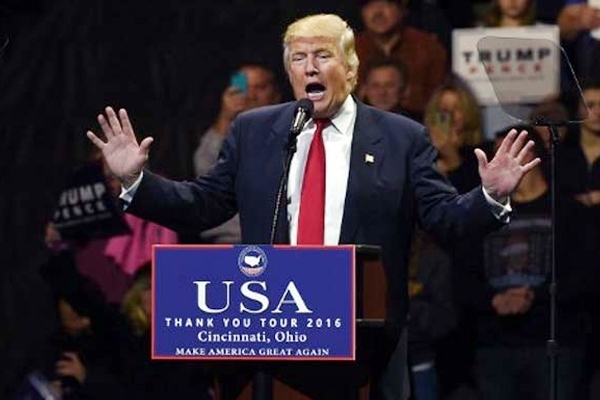 President-elect Donald Trump has warned on Thursday that US companies would face "consequences" for outsourcing jobs abroad , as he offered his early success in persuading an air conditioner maker to keep more than 1,000 jobs in the United States rather than move them to Mexico.
Trump said on a visit to a Carrier Corp plant in Indianapolis, "Companies are not going to leave the United States anymore without consequences. Not going to happen.
Trump, who is going to take office on Jan. 20, never said the consequences, but he had threatened frequently, during the election campaign which his administration would put a 35 percent import tariff on goods made by American manufacturers that had moved jobs offshore.
It is not yet clear that what steps would have to be taken by federal authorities before Trump could retaliate against individual companies who had been shifting jobs abroad.
Trump also did not address whether Carrier's parent company, United Technologies, would face any consequences for continuing with plans to move 1,300 other Indiana jobs to Mexico.
Carrier announced this week that it had agreed to keep more than 1,000 jobs at the plant and at its headquarters initially under pressure from Trump, while still planning to move more than 1,000 other US jobs to Mexico.
Trump said that his understandings with the maker of air conditioning units had been a model for how he would approach other US businesses that are tempted to move jobs overseas to save money.
He promised to create a healthy environment for business through lower taxes and fewer regulations.
Trump said, "I just want to let all of the other companies know that we're going to do great things for business. There's no reason for them to leave anymore"
Also Read: Indiana Carrier, example of bad trade deals - Trump
By Prakriti Neogi