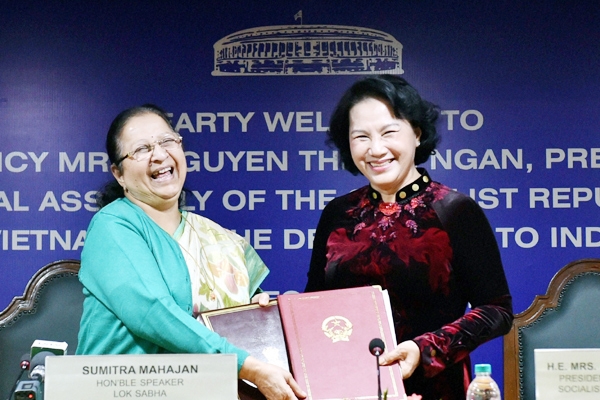 In India's Act-East Policy, India has signed Civil Nuclear Co-Operation Agreement with Vietnam. The two countries had also signed three other agreements, to enhance aviation links, to jointly work in the area of energy efficiency and promotion of parliamentary cooperation.
The four pacts are aimed at boosting the relations and were signed in the  presence of Lok Sabha Speaker Sumitra Mahajan and visiting President of Vietnam's National Assembly Nguyen Thi Kim Ngan.
The civil nuclear agreement with the Vietnam, comes close on the heels of India signing a similar pact with Japan.
Naya Saal, Naya Bharath - Prime Minister Modi
The MoU on civil nuclear cooperation was signed by the  Secretary of Department of Atomic Energy, Sekhar Basu and Pham Cong Tac, Deputy Minister of Science and Technology, of  Vietnam.
"India and Vietnam can mutually benefit from each other's strength," Lok Sabha speaker said in the occasion.
Mahajan said that the Agreement on Cooperation in Peaceful Uses of Nuclear Energy is a "remarkable development" and a "testimony to two countries' willingness to give greater substance to their recently upgraded Comprehensive Strategic Partnership."
After economic shake up now Foreign policy
"As a State Party to the UNCLOS (UN Convention on the Law of the Sea), India has called on all parties to show utmost respect for the UNCLOS, which establishes the international legal order of the seas and oceans," Mahajan said.
"Vietnam is playing an increasingly important role in global economic affairs," the Speaker said, in a press release issued by the Lok Sabha Secretariat.
She hailed the "exceptional economic rise of Vietnam by grit and hard work coupled by its warm and friendly people" and said it is indeed inspiring and heart-warming.
By Premji