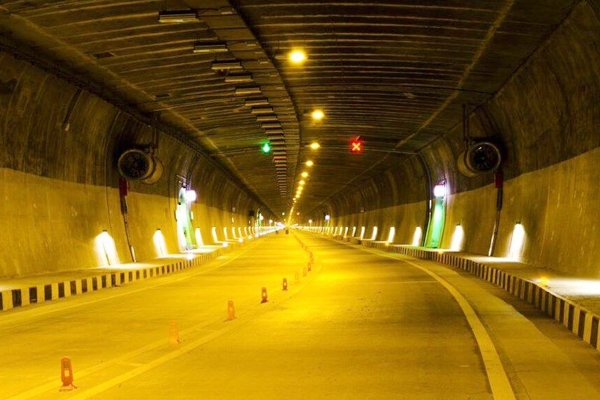 Prime Minister Narendra Modi on Sunday inaugurated the Chenani-Nashri tunnel, which is India's longest tunnel that links Kashmir Valley with Jammu.
The 9 kilometer long tunnel, built at Rs. 2,500 crore, was dedicated to the nation by Narendra Modi in the presence of Jammu & Kashmir Governor N.N. Vohra and Chief Minister Mehbooba Mufti.
The tunnel will reduce the journey time by two hours and provide a safe, all weather route to motorist travelling from Jammu and Udhampur to Ramban, Banihal and Srinagar. This tunnel saves fuel cost of Rs 27 lakhs per day.
PM Modi also congratulated those, who were involved in the construction, especially the youth of Kashmir, who have shed their sweat in building the tunnel.
"Youth of Jammu and Kashmir worked very hard in the making of the Chenani-Nashri tunnel. I congratulate them for this. The money for this tunnel came from the government of India. But there is also the scent of sweat of Jammu and Kashmir's youth in this tunnel," PM Modi said.
Then he took a serious note of the reports of stone pelting by Kashmiri youths and said that they have two paths open to them – "Terrorism" or "Tourism."
"On one hand, some misguided youngsters are pelting stones. On the other hand, hardworking Kashmiri youth are using the same stones for nation-building. The path of bloodshed has not helped anyone and will never help anyone," PM Modi said.
"During the last 40 years, many innocent people lost their lives. But who did this benefit? If there had been greater focus on developing tourism and infrastructure, then people from all over the world would have been streaming to the Kashmir valley," he added.
While, the nation is escalating quickly towards prosperity and developments there are few, who just cannot handle the involvement of Kashmiri youth, who are dedicating their effort towards their nation.
Prior to PM Narendra Modi's visit Kashmiri separatists called for a shutdown in the state on Sunday, most of the shops, petrol stations and private businesses were closed following the call of their leader Syed Ali Geelani, Mirwaiz Umar Farooq and Yasin Malik.
NRIs not eligible for Aadhaar Card
AMandeep