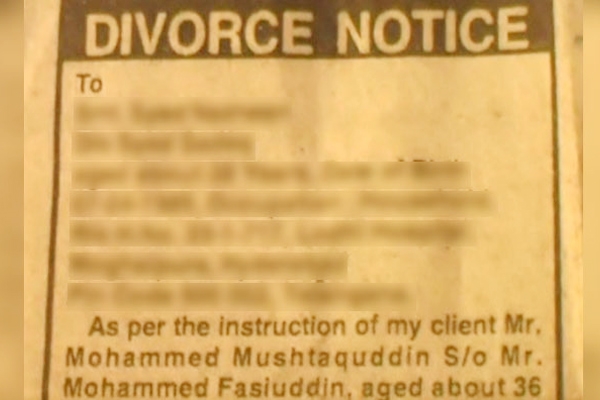 Triple talaqs have become a routine thing, husbands are divorcing their wives through whatsapp messages and postcards and now through advertisements too.
In a recent incident an NRI based in Saudi Arabia divorced his 25-year-old wife through an ad in newspaper in Hyderabad, India. Later, the wife received a phone call from her husband's lawyer.
The wife, whose identity has not been revealed, said to the police that she was shocked to see the advertisement in a local Urdu daily on March 4.
Mohd Mushtaquddin, who is a banker by profession, has been charged by the Hyderabad police with cheating and cruelty.
Mushtaquddin married the woman in 2015 and took her to Saudi Arabia after five months of their marriage. The woman gave birth to a baby girl last year.
Two months ago, the couple came to India and the wife went to her parents' home after an altercation with her husband. Three weeks later, Mushtaquddin allegedly left for Saudi Arabia without informing his wife. He did not even answer phone calls. Her father-in-law informed her that Mushtaquddin had returned to Saudi Arabia and she was not allowed in their home.
''If I did anything wrong, he should have spoken to me and my parents. If I was wrong, he should have given talaq in front of everyone as he has married me in front of all relatives," the woman has said.
''Why did he run away to Saudi Arabia without meeting me... and divorce me through an ad even with a 10-month-old baby," she wondered, her little daughter on her lap.
Police officer S Gangadhar said that Mushtaquddin continuously harassed his wife for a dowry of Rs. 2 million.
"We are conducting a probe and also verifying if a divorce, announced through a newspaper is valid under the Sharia," officer Gangadhar said.
The case has emerged two days after a man was arrested in another part Hyderabad for divorcing his new wife by sending a postcard to her.
Earlier this month an NRI based in the United States divorces his wife through a Whatsapp message.
Triple talaq allows a Muslim husband (only) to get an instant divorce by saying the word "talaq" (divorce) thrice.
Next month, the Supreme Court is considering the petitions challenging it.
AMandeep