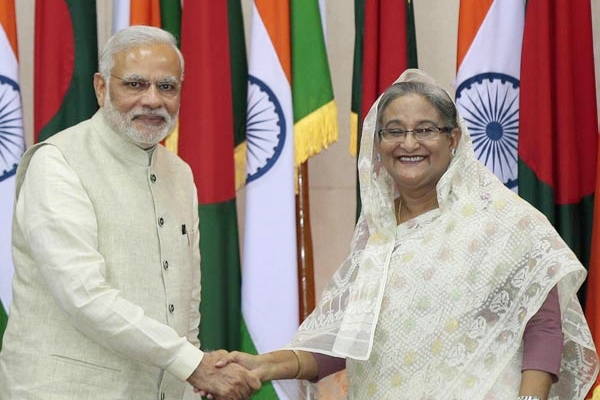 Indian Prime Minister Narendra modi and Prime Minister of Bangladesh, Sheikh Hasina held bilateral talks in Delhi today and inked 22 pacts in various important sectors that included a civil nuclear agreement and two memorandums of understandings (MoUs) on defense cooperation.
The Indian government has extended a credit line of 4.5 billion USD for implementation of projects in the neighboring country in the east.
"We are happy to announce a concessional line of credit of $4.5 billion for investment in priority sectors in Bangladesh," Narendra Modi stated.
He also announced 500 million USD credit lines towards Bangladesh's military budget.
PM Modi, while touching upon the several investments assured to the country said that "India has always stood for the prosperity of Bangladesh, we are a long standing and trusted development partner of Bangladesh.
Indian wants to build cooperation in new areas with Bangladesh "especially in some high-technology sectors including, IT, cyber security, space explorations, and nuclear energy.
Both the prime minister inaugurated the new bus service through video conference that links Kolkata and Dhaka via Khulna in Bangladesh. Together they flagged off the Maitree Express that will run between Kolkata and Khulna.
The Radhikapur-Khulna passenger train service will be restored again after an interval of nearly 70 years. The service is set to resume on July 2017.
PM Modi said that he is hopeful of an "early and acceptable solution" with the Bangladesh on the Teesta water sharing issue.
Bangladesh PM Sheikh Hasina visited India on Friday for a four day. This is PM Hasina's first bilateral visit in seven years.
Narendra Modi can address Indian community in Israel
AMandeep