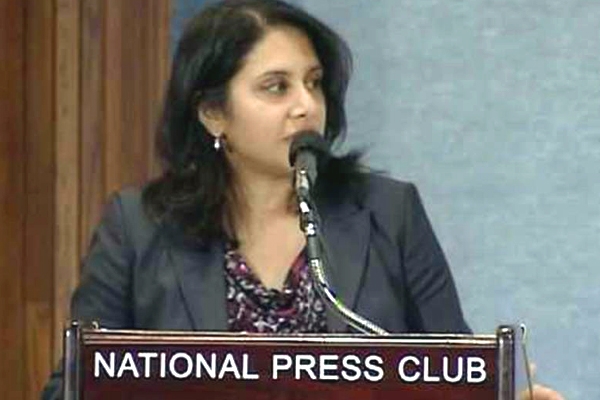 The US President, Donald Trump has nominated two Indian-origins for key administrative posts to coordinate the country's law enforcement strategy around copyright, patents and trademarks and eliminate 75% of federal regulations of his plans.
While making several administrative appointments on Friday (April 7th), Donald Trump nominated Vishal Amin and Neomi Rao, who will be his new IP and regulatory czars respectively.
Vihsla Amin is nominated to be the Intellectual Property Enforcement Coordinator; While Rao is nominated to be the Administrator of the Office of Information and Regulatory Affairs.
Amin would succeed Daniel Marti, once approved by the United States Senate. Amin is currently a Senior Counsel of House Judiciary Committee.
A statement said, that Amin served at the White House as Associate Director for Domestic Policy in the administration of former President George W Bush, and at the United States Department of Commerce, as Special Assistant and Associate Director for Policy in the Office of the Secretary.
Amin holds a bachelor's degree in neuroscience from Johns Hopkins University and law degree from Washington University in St Louis.
The Chairman and CEO of the Recording Industry Association of America, Cary Sherman said that the prompt appointment and consideration of this position is critical, and we commend President Trump for his choice. Vishal Amin is a smart, thoughtful leader and we look forward to working with him.
Neomi Rao nomination to be the Administrator of OIRA, is a statutory part of the Office of Management Budget within the Executive Office of the President.
OIRA has the power to reject rules that do not fall in line with the President's goals.
According to a report by Washington Post "Donald Trump's selection of Rao suggests the administration is serious about regulatory reform, not merely reducing high-profile regulatory burdens.
The report also said that the selection of a respected administrative law expert further suggests that Trump's administration recognizes the need to be thoughtful on administrative action and meaningful reforms require more than issuing a few executive orders, Rao is a superlative nomination.
Rao, who is a professor at the George Mason University, founded and directs the Center for the Study of the Administrative State. She also focused her research and teaching on constitutional and administrative law.
Aadhaar Compulsory for NRIs to file income tax returns
AMandeep