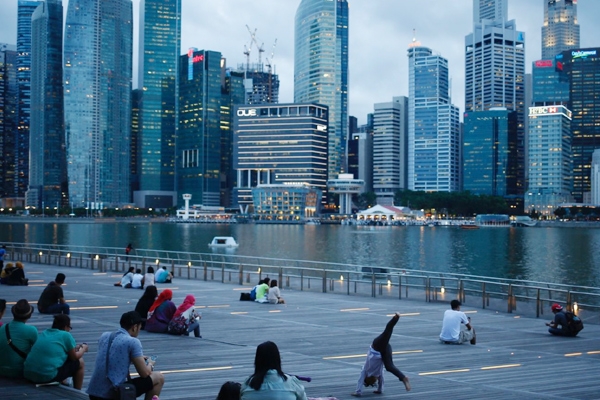 After the news started circulating about the tightening of H-1B visas Singapore has become a new destination for Indian techies.
Singapore has a workforce of about 5.4 million, of which nearly 40 is made up of non-residents. Singapore officials have noted that workers tend to be more common in certain industries, including food-and-beverage and technology.
While the Singaporean government has not made any statements singling out Indian IT works or firms, India's IT industry officials say that it has seen a definite change in the visa regime.
The director of global trade development at Nasscom, Gagan Sabharwal said that Singapore has realized that the total number of people they have… far exceed the optimal level."
"That is when they started shutting the tap down by making it more expensive, making it more cumbersome for companies."
The National Association of Software and Services Companies (Nasscom), has noted a reduction in visas over several years, but says things have become particularly tough since last year.
Sabharwal said that Singapore started raising salaries required for foreign workers every six months or so by more than 10%. While local workers complained that they were paid less than their foreign counterparts.
In March Singapore raised the minimum salary that a company has to pay to a local worker in order to be able to count them as a full time emplpyee, while also calculating how many foreign workers it is allowed to hire.
Singapore also reportedly started asking for information in relation to work permit applications for Indian tech workers that company's feel is contrary to a 2005 economic cooperation agreement between two nations.
Since Singapore adopted Fair Consideratin Framework, a slew of rules in place since October 2015, work permit processes have tightened a lot to make sure that employers are considering Sigaporeans for vacancies.
"All Indian companies have received communication on fair consideration, which basically means hiring local people," Nasscom president R. Chandrashekhar.
Before the recent changes, Indian IT companies were awarded between 5,000 to 10,000 work permits each year.
"Since about last summer, the approval rates have actually fallen drastically. Most companies are only getting a trickle through," says Sabharwal of Nasscom.
The population of Indian IT professionals in Singapore has shriveled to under 10,000. Applications that typically took two to four weeks to process have been held up for months.
Sabharwal said that it is not Singapore that is shutting the door on Indian techies. The United Kindom, Canada and the United States, the three countries that account for the majority of India's software export revenue have made it harder for Indians to migrate to each of those locations.
Singapore's home minister  K. Shanmugam, who is himself is an Indian-origin, warned that Singapore must be on guard against populism that could sharpen ethnic divisions.
According to Sabharwal, it is difficult to find residents to fill positions. He said that firms need to make more of an effort on providing skills training—or be prepared to move operations out.
AMandeep