LA Judge Rejects Bid to Indefinitely Detain Immigrant Children With Parents
July 10, 2018 12:48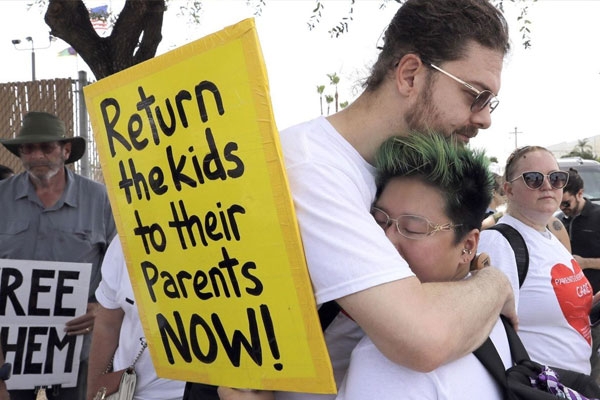 (Image source from: Los Angeles Times)
A federal judge in Los Angeles dealt the Trump administration a momentous blow on Monday by rejecting its endeavor to indefinitely detain immigrant children caught crossing the border illegally with their parents.
United States District Judge Dolly Gee issued an order lambasting the Justice Department for its petition to modify a 1997 legal settlement that set regulations for how the authorities can deal with immigrant children in its detention.
Calling President Trump's executive order on immigrants "ill-considered," the judge accused the administration of endeavoring to shift blame to the courts for a crisis of Congress and the president's making.
Gee's order came as Justice Department attorneys told a federal judge in San Diego they would miss Tuesday's deadline for authorities to reunite parents and children younger than 5 who were forcibly separated at the border.
Just over half the 102 children identified by the government will be reunited by Tuesday's deadline, the attorneys told U.S. District Judge Dana Sabraw, who had previously ordered the reunifications in response to a legal action brought by the American Civil Liberties Union.
The remaining includes children whose parents were already deported, have criminal records and are unfit to care for them, Justice Department attorneys said.
Despite the missed deadline, Sabraw told attorneys for both sides that he was "very encouraged by the progress" and that he was "optimistic" many families would soon be reunited.
The San Diego and Los Angeles cases will dictate how quickly and under what circumstances the administration can reunite families.
The settlement at issue before the Los Angeles judge arises from a case brought by a Salvadoran teenager in 1985. That led to an agreement that immigrant minors detained at the border be released to relatives or other custodians "without unnecessary delay" or placed in licensed facilities within five days, and during a surge, up to 20 days.
Under the San Diego judge's order, an additional 2,000 to 3,000 minors ages 5 and older are required to be reunited with their parents by July 26.
The children will be brought to parents in detention facilities around the country, and the families will be released together on immigration parole, said Sarah Fabian, an attorney for the U.S. Department of Justice.
The ACLU said it is hoping to be notified of the releases so volunteers can offer assistance — including bus tickets, clothing, and hotel rooms — for parents and children.
The families would then be able to pursue their immigration cases or asylum claims as a unit, with lawyers provided by the ACLU if needed, the group said.
By Sowmya Sangam