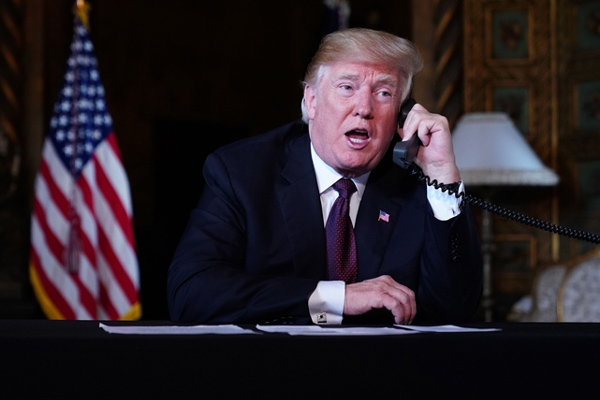 (Image source from: Theweek.in)
The United States President Donald Trump on the occasion of Thanksgiving Day said: "I made a tremendous difference in this country."
Taking a chance to pat himself on the back he said, "This country is so much stronger now than it was when I took office and you wouldn't believe it and when you see it, we've gotten so much stronger people don't even believe it."
Of course, Trump did not forget to thank his family but did not dwell on it for too long and moved on to fulfill his self-importance by boasting about how much foreign leaders praise him. "When I see foreign leaders, they say, 'We cannot believe the difference in strength between the United States now and the United States two years ago," he said at his Mar-a-Lago resort in Florida.
The president also made a call to the troops deployed overseas on Thanksgiving Day to congratulate the military. "I hope that you'll take solace in knowing that all of the American families you hold so close to your heart are all doing well," he said. "The nation's doing well economically, better than anybody in the world."
Known for his self-promotion, the real estate mogul-turned-politician, Trump was famous for putting his name on things - his projects carry his name in large letters.
Likewise, earlier in the week he had, in an interview with the CNN, given himself an A-plus. "Look, I hate to do it, but I will do it. I would give myself an A-plus," he said. "Is that enough? Can I go higher than that?" he had said.
-Sowmya sangam