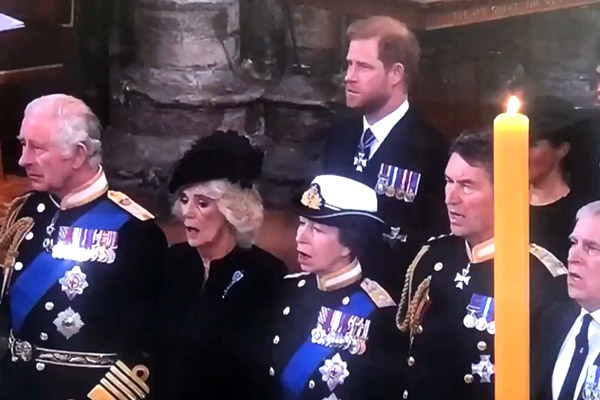 (Image source from: Twitter.com)
The entire British Royal Family along with 2000 guests across the globe have been present at the Westminster Abbey for the funeral of Queen Elizabeth II who passed away on September 8th. The entire guests paid a tribute to Queen Elizabeth II by singing 'God Save the King'. There are reports that Prince Harry did not sing the anthem during the ocassion. A short video clip of Prince Harry not singing the anthem went viral across the social media circles like Twitter and other platforms. The videos showed that Prince Harry was looking around with his mouth shut. This behaviour sparked criticism online. Several people and netizens called this disrespectful.
Prince Harry not singing the national anthem #queensfuneral pic.twitter.com/laNk5JMZ6R

— Kieran (@kierknobody) September 19, 2022
Prince Harry was spotted sitting behind his father King Charles III and the Queen, step-mother Camilla. His wife Meghan Markle was spotted sitting beside him. There are reports that Prince Harry was told about the demise of his grandmother Queen Elizabeth II few minutes before it was announced for the world. He is the youngest son of the family. Prince Harry and Meghan Markle will extend their trip to the United Kingdom because of the sudden demise of Queen Elizabeth II. They will soon move away to Montecito for their children Archie and Lilibet. They have been staying away from their children since two weeks. The entire family gave the farewell to Queen Elizabeth II, the longest-serving monarch of Britan.