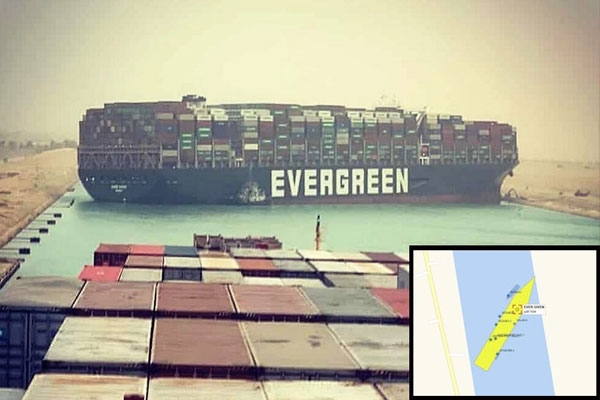 (Image source from: bangkokpost.com)
A massive cargo ship turned sideways in the Suez Canal of Egypt and the entire traffic is blocked due to this incident. This happens to be a crucial waterway between the East and the West for global shopping. The traffic between continental Africa from the Sinai Peninsula is blocked from Tuesday after the MV Ever Given, a container ship got stuck in the canal and the owner of this ship is said to be listed in Japan. The huge container ship is struggling a blackout while transiting in the northern direction. Some of them say that the high winds are the reason for the disaster. The bow of Ever Given is said to be touching the eastern wall of the canal and the stern is said to be lodged against the western wall of the Suez canal.
This information is as per the satellite data from MarineTraffic.com. The tug boats tried hard to push it after they surrounded the cargo ship. Some of the pictures are posted on social media pages. The canal authorities could not be reached and the ship is estimated to be stuck at 6 kilometers north from the mouth of the Suez canal. Several cargo ships and oil tankers are lined up near the southern end of the canal and the entire traffic is now completely blocked. All these ships need to pass through the canal to enter into the Mediterranean Sea. The cargo ship Ever Given is owned by Shoei Kisen KK, a ship-leasing firm based in Imabari, Japan. The cargo ship is expected to reach Rotterdam in the Netherlands. The huge container ship was built in 2018 with a length of 400 meters and a width of 59 meters. Ever Given is one of the largest cargo ships of the world.
By Siva Kumar