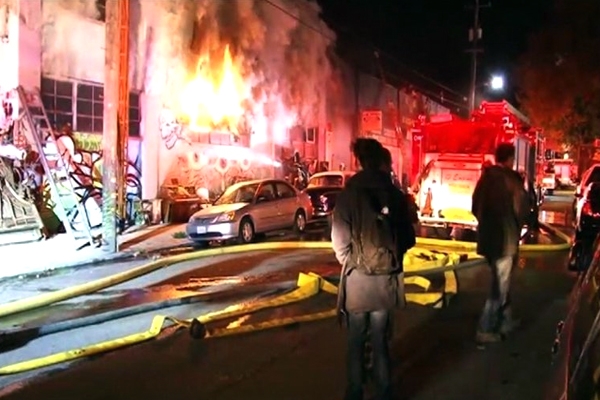 A rave party, held in California warehouse caught fire on 4th of December, where the death toll rose up to 33.
Sergeant Ray Kelly from the Alameda County Sheriff's Department told , "When we started this investigation, if you would have told us we would have 33 victims, we wouldn't have believed you" .
The fire broke out about 11:30 PM on Friday at the cluttered warehouse in Oakland where the artists and students worked and lived. But the structure had not been  licensed for such use.
The electronic dance music party, with around 50 to 100 guest, also took place without any permit.
Although the reason for the fast-moving blaze has been remained under investigation, Oakland Mayor Libby Schaaf said that the district attorney had opened a criminal investigation as a measure to preserve options while the case unfurls.
She said, "You have to understand that the scope of this tragedy is tremendous. We have many, many witnesses to interview. We are in the process of doing that."
Eight victims have already been identified according to the fingerprints, age from 17 to 35.
Some of them were from Europe and Asia, and the Oakland authorities have been working with the State Department to contact foreign governments.
Bodies had been recovered scattered throughout the warehouse, which is locally known as Oakland Ghost Ship.
Firefighters also informed that the building had no sprinklers or smoke detectors. According to the Officials the roof collapsed onto the second floor. A dozen of bodies were found in the middle of the building,
Also Read: FBI captures a Top 10 Most Wanted fugitive in Los Angeles!
By Prakriti Neogi