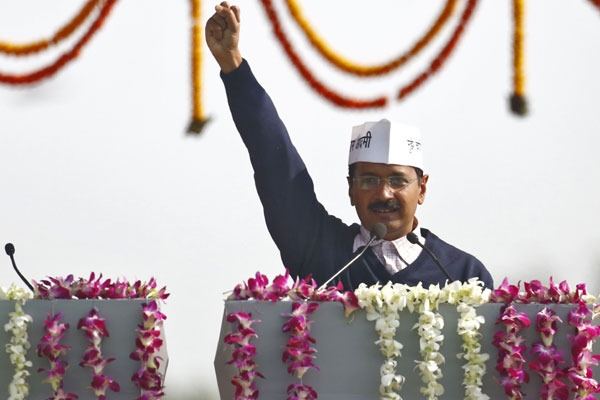 (Image source from: })
The Aam Aadmi party Chief, Mr. Arvind Kejriwal is sworn as Delhi's new Chief Minister at Ramlila ground, today noon. The 46-year-old, Kejriwal had invited one and all in the swearing ceremony. The guest list included Prime Minister Narendra Modi, all SAARC nation leaders, Pakistan Prime Minister Nawaz Sharif, Sri Lankan President Mahinda Rajapaksa, Kiran Bedi, opposition leaders like Ajay Maken and many more VIP's.
Manish Sisodia, who is appointed as deputy chief minister, said many of those people had sent regrets as they had other plans, including the PM.
Around 3,000 security personnals, 50 CCTV and 12 LCD kept a tight vigil at the Ramlila ground where a large crowd  had  gathered.
From Ramlila grounds, Kejriwal will Visit Mahatma Gandhi's Memorial at Rajghat before heading to the Delhi Secretariat Office. Arvind Kejriwal will chair the Delhi government's first cabinet meeting at 4:30 p.m.
Apart from Mr. Kejriwal and Mr.Sisodia, AAP leaders  Satyendra Jain,  Jitendra Tomar, Gopal Rai, Sandeep Kumar and Asim Ahmed Khan took oath as ministers today.
This will be Kejriwal's second term as Delhi Chief Minister after he resigned last February, running a 49- days government in Delhi.
This time hopefully ,Kejriwal keeps the promises made to Delhi people and being Delhi's chief minister takes better decision instead of quitting from the seat for a purpose, as he did in his previous tenure.  

-Smrutirekha